What Should You Feed Your Puppy?

Choosing the right food to feed your new puppy is crucial to their overall health and well-being and something that should be done with careful thought and consideration. As your puppy's breeder, our commitment to the health and happiness of your newest family member doesn't end when you take your puppy home! Our aim is to provide the best advice when it comes to caring for your new pet, especially nutrition!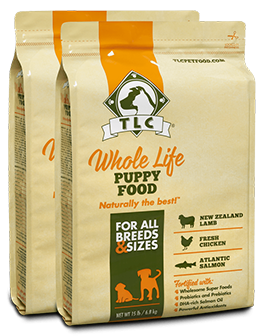 This is one of the many reasons why we choose to feed our dogs and proudly recommend TLC Whole Life Puppy Food. Delivering the ultimate balance of quality meats, animal fats, vitamins and minerals, TLC Whole Life Puppy Food provides everything your puppy needs to develop into a strong, healthy and energetic dog.
Click here for a complete list of ingredients and how they benefit your puppy!
---
Why Choose TLC Pet Food?
Meat First – Ancestral Diet
Fresh, Whole Natural Ingredients
Ingredients and Food Naturally Preserved
Probiotics (Beneficial Bacteria) and Prebiotics
Protection Against Diabetes & Obesity
Healthier, Shinier Coat
No By-Products, Corn, Wheat, Fillers
No Artificial Flavors or Colors
Delivered fresh and delivered FREE to your door
No risk, money-back guarantee
Unmatched Customer Service
Schedule using Autoship and never worry about running out of food!
They make small, frequent batches to ensure that you get the freshest food possible. The TLC food that you get delivered to your door is FRESH. Some store-bought pet food could be anywhere from 6 months to a year old.
Contains NO by-products, NO corn or corn gluten, NO wheat or wheat gluten, NO dairy, NO artificial colors, flavors or preservatives. With quality ingredients working synergistically with one another, you can be certain that you're providing the very best for your companion animal.
---
Never Worry About Running Out of Pet Food
TLC is sold exclusively online and delivers their pet food for FREE, anywhere in Canada and the U.S. Using the convenience of Autoship, you can schedule your puppy's food deliveries according to their needs! You can change, adjust and cancel Autoship anytime, giving you the flexibility you need as your puppy grows.
SAVE $5 BY
CLICKING THE LINK

BELOW!