Check us out on Social Media!

Scan this tag with your Instagram app or click to follow us!
#walnutvalleypuppies
@walnutvalleypuppies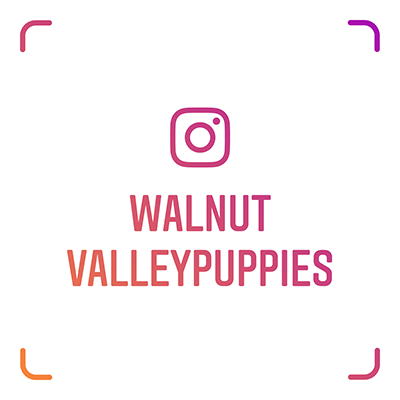 When you adopt a Walnut Valley puppy, you become a member of our family!
We strive to create a community where all of our puppies and their families can stay connected with each other. We utilize Facebook and Instagram to interact with our "family", and keep up with our four-legged friends as they grow and learn!
We encourage members of our Walnut Valley Family to connect with us on Facebook and Instagram by using #walnutvalleypuppies, and by tagging us in photos/videos of their pup!

Along with that, we also have an exclusive Facebook group, Walnut Valley Family, for those who have welcomed one of our pups into their home. This is a place where families can not only post pictures of their own pup, but also interact with all of their puppy's litter mates and get to know the rest of the Walnut Valley Family!

If you think you could give one of our pups a great home, we would love to hear from you!

Fill out our application and tell us a bit about your family, and how one of our pups would fit into your life.

Contact Us
Testimonials