Amber's F1B Mini Bernedoodle Babies!
Click on a puppy's picture to learn more about him/her.
Birthdate: December 11, 2022
Ready To Go Home: February 6, 2023
Registration: ICA
Size: Approx. 20 to 30 pounds
Pictures of Parents and More Info
Our first litter from Amber & Trevor produced only 2 puppies but we feel blessed to have them!
For more pictures and videos follow us on Facebook and Instagram.
Each puppy goes to its forever home with the following:
Prepaid ICA Registration
Health certificate from our vet
Up to date on vaccinations
Up to date on dewormers
Micro chipped
Vet checked
2 year genetic health guarantee
Dew claws removed
Blanket with mother and siblings scent
Collar and leash
Puppy food starter pack
Several toys
And more!
These puppies are reserved for our waitlist families! They were picked out at 5 weeks old.
If you would like to join the waitlist for a future litter, CLICK HERE
There are several reasons we wait to let people pick out their puppies instead of letting them choose now. First of all, we cannot predict how big each puppy will be when they are still young. Their weight can vary considerably within the litter. At 5 weeks old we guess their approximate adult weight based on their current weight and past experience. Coat type is also something to consider when purchasing your puppy. However, when the puppy is still young (first several weeks) their coats will all look very identical. When the puppies are a little older their coat type starts to show itself. Last but not least, each puppy has a unique personality! Most people choose a puppy based on its personality. At 5 weeks we have a good idea of how each puppy will be as an adult.
The waitlist families will be picking out their puppy at around five weeks old.
Any puppies picked up in Illinois are subject to 6.25% state sales tax. See more info on our Policies Page.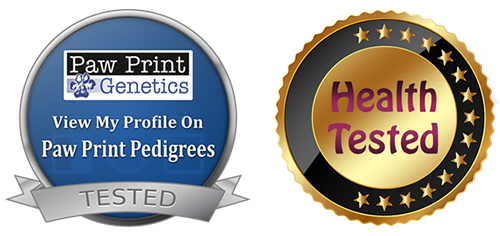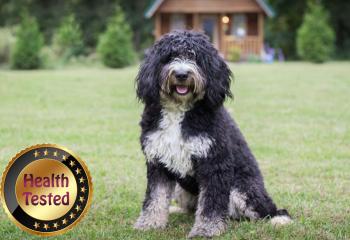 F1 Standard Bernedoodle
Weight: 56 lbs
Height: 20 in
Mother:
Amber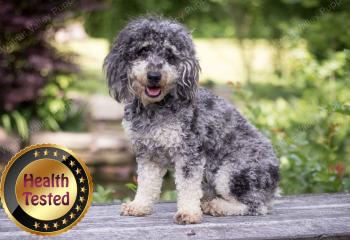 Miniature Poodle
Weight: 14 lbs 4 oz
Height: 11.5 inches
Trevor is our new male for our F1B litters! He will be used on all our F1B litters except for litters from Katie Bug.
Father:
Trevor